Rural Health Initiative (RHI)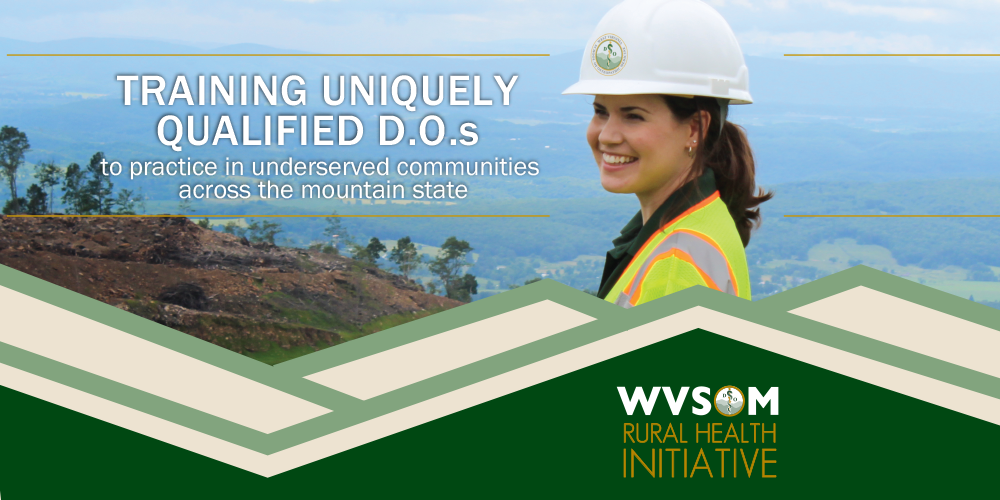 Open RHI Registrations
11th Annual Rural Practice Day

Emotional Health in Diverse Demographics

Live event held February 11, 2022 in person at WVSOM Student Center and streamed live.

Register Now

Green Coat Program

Deadline for submitting applications for Fall 2022 Green Coat is April 1, 2022.

More Information Register Now
A Passion to Serve Rural Communities
The Rural Health Initiative Program was designed to enhance the rural/underserved primary care curriculum at WVSOM in order to produce graduates qualified to practice medicine in rural/undeserved communities.
Students who are accepted into the program participate in unique experiences that provide opportunities to learn about local industries and the daily lives of West Virginia residents.
Students gain insight into how those factors affect the health and treatment of patients. Initiatives includes exposure to the coal, timber, agricultural plus the oil & gas industries, along with related safety issues.
What is RHI?
West Virginia:
RHI is a long-standing state-funded grant program to improve student interest and exposure to rural practice.
The program is governed by state statute and supported by an annual budget.
Recent program restructuring moved from funding a statewide community consortium to granting funds separately and independently to the state's three academic health centers.
The Higher Education Policy Commission awards and oversees the grants, provides technical assistance, funds a statewide housing system and facilitates monthly telephone conferences among the institutions.
Academic health centers each develop their own Rural Health Initiative program and retain control of all curricular and programmatic development.
At WVSOM:
WVSOM recruits students from rural areas that have an interest in primary care.
The institution emphasizes rural primary care throughout its four-year osteopathic medical education curriculum, residencies, and post-graduate support of alumni.
During the 2014-2015 academic year, third-year and fourth-year students enjoyed more than 1,430 total rural clinical rotations within the state.
Currently, 55 WVSOM students are participants in the Rural Health Initiative Program.
Our Goals: The Future of Health Care in Rural Communities​
1 - Increase the recruitment of health care providers
1,430+ Rural/underserved rotations were performed by WVSOM students, more than any other medical school in West Virginia and one of the top in the nation.
2 - Increase the recruitment of health care providers.
6 students received sign-on incentives for accepting primary care residency programs in West Virginia.
3 - Develop pipeline programs to attract students to rural/underserved healthcare careers.
9,150+ high school students were introduced to rural medicine opportunities through RHI pipeline activities.
4 - Support the involvement of West Virginians in health education.
6 industry-specific activities were conducted for WVSOM RHI students to learn about environmental exposures that could cause injuries or diseases to West Virginia patients.
Want to Become a Part of the Rural Health Initiative Program?
The Rural Health Initiative Program is open to WVSOM students. In order to apply, second year medical students may:

Complete the RHI Program application survey
Submit a Curriculum Vitae
Provide the RHI Application Essay/Personal Statement – "Why are you interested in Rural Primary Care in WV?"
Obtain 2 Letters of Recommendation

Once the complete application is submitted, the application goes to the RHI Selection Committee. The student will be notified of their application status.
RHI Student Benefits
While all medical students at WVSOM complete a minimum of three rural/underserved rotations in West Virginia during their clinical years, participation in the Rural Health Initiative takes rural/underserved clinical exposure to a new level of engagement.
Physician Mentor
Student doctors selected for the Rural Health Initiative program will be placed in specially selected primary care experiences with rural/underserved West Virginia physicians and residents who serve as mentors. These physicians assist the student doctor through clinical rotations and residency.
Financial Scholarship
RHI participants will receive a scholarship while performing rural/underserved rotations and have access to financial counseling and loan forgiveness education to ensure they are maximizing funds available for service.
Student Housing
RHI financially supports travel expenses and provides housing for primary care rotations within West Virginia during an RHI student's fourth year of medical school.
Rural Practice/Rural Primary Care Day
WVSOM RHI sponsors this annual event where students are exposed to a panel of successful rural speakers, have the opportunity to visit rural hospital and clinic representatives and attend workshops including financial incentives.
Wilderness Medicine Rotation
WVSOM students have the opportunity to learn wilderness medicine through a four-week elective rotation. In the summer of 2013, this rotation was the only wilderness medicine rotation in the country offered by an osteopathic school.