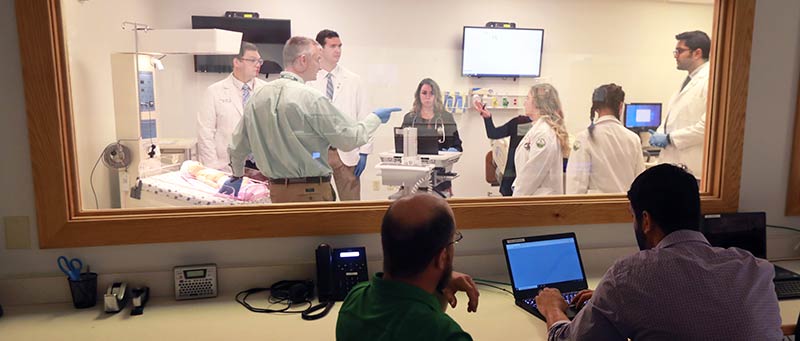 The WVSOM simulation lab at the CEC provides medical training and traditional apprenticeship-style training. Through the lab, students gain interactive experiences by recreating clinical situations in a safe and controlled environment with the use of mannequin simulators.
Human Patient Simulators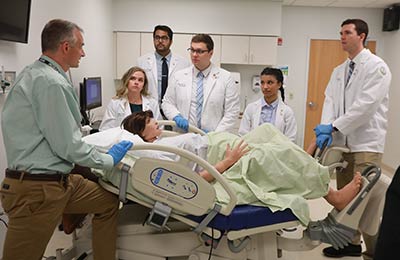 Human Patient Simulators are housed in the CEC simulation lab and range in variety from low fidelity simulators such as CPR mannequins, to high fidelity simulators which are sophisticated, computer driven, interactive models that talk and breathe, with pulses and pupils that constrict and dilate.
The clinical evaluation center's simulation equipment consists of:
11 high fidelity adult simulators
1 high fidelity trauma simulator
1 high fidelity cardio-pulmonary simulator
3 high fidelity pediatric simulators
2 high fidelity birthing simulators with 1 high fidelity infant
1 high fidelity neonatal simulator
2 medium fidelity adult simulators
2 medium fidelity pediatric simulators
Assorted low fidelity and clinical task trainers
Task Trainers
Task trainers are models of specific human body parts that are used to help students address real-life complications with those specific areas. The CEC has about 130 task trainers that provide different educational functions.
So me of the task trainers used in the CEC help students with inserting catheters, performing IV insertions, lumbar puncture, performing labor techniques and examining areas like ear canals, prostate and muscles to name a few.