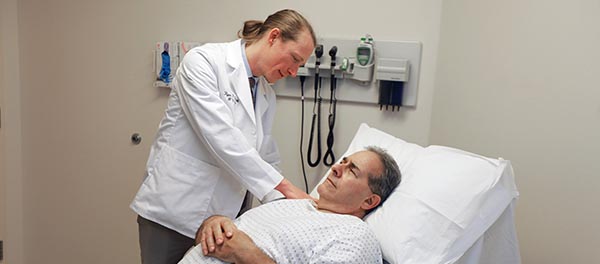 Standardized patients (SP) are individuals from the community who have been trained to accurately portray the role of a patient with a specific medical condition. SPs are trained to portray a specific situation or problem exactly the same way each time they encounter a student.
The WVSOM standardized patient program gives students the opportunity to practice their clinical skills in a controlled environment.
The purpose of the program varies from education to serving as an evaluation instrument for the assessment of communications and clinical competence.
During the interaction with a student a standardized patient may:
Present a case history in response to student questioning.
Undergo a limited physical examination at the student's direction.
Assist students in developing their communication and clinical skills.
Assist students in working through difficult emotional situations in a safe environment.
Perform assessments of student performance using checklists.
WVSOM's SP program is focused on the education of the student. The program has been carefully developed to identify how to assess student performance. Cases are written to focus on desired competency and skill, so the SP is thoroughly trained for all of the roles that he/she plays and any assessment they perform.
Educators can obtain data on individual or group performance encounters through the areas that are evaluated including communication skills, history/interview/information gathering, physical exam for task performance, health record documentation and special skills in osteopathic manipulation.
How do I become a Standardized Patient?
Apply online using the link provided, if you have any questions or concerns please contact sp@osteo.wvsom.edu for an application. Once we have received these documents, someone from our office will contact you to set up an interview. Interviews take place periodically during the year.
Working as a SP is not considered a part-time job. We are unable to give you a definite number of work hours in any given period of time because our needs vary through the year.
Once you have been accepted as an SP, your name and profile will be added to our SP data base and you will be notified when it meets the need of a specific case, at which time training and practice will be scheduled.