Osteopathic Manual Manipulation (OMM)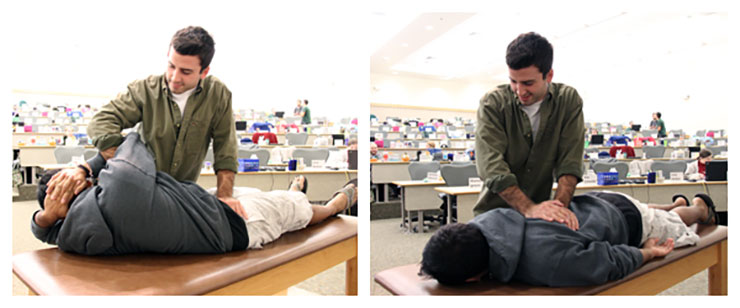 Osteopathic Principles & Practices (OP&P)
Osteopathic medicine is a complete system of medical care with a philosophy that combines the needs of the patient with the current practice of medicine, surgery, and obstetrics, that emphasizes the interrelationship between structure and function and that has an appreciation of the body's ability to heal itself.
Fully Licensed Physician
A Doctor of Osteopathic Medicine (D.O.) is a fully licensed physician who can perform surgery and prescribe medication. Doctors of Osteopathic Medicine receive extra medical training so they can use their hands to help diagnose and treat their patients.
There is a focus on understanding the patients' home and work life in order to treat the whole person.
At WVSOM the OMM Department is committed to imparting this unique knowledge and skill in preparing our students for primary care osteopathic practice.
Student OMM Clinic
The Student OMM Clinic is designed to give second-year students the opportunity to provide Osteopathic Manipulative Treatment (OMT) to patients under the supervision of OP&P faculty.
The goals of the clinic are to:
introduce students to clinical practice; provide experience in performing a history and physical exam;
introduce coding for somatic dysfunction and manipulative treatment; provide experience in diagnosis and treatment of somatic dysfunction;
encourage the use of OMT in a primary care setting.
Students are required to attend 10 weekly clinic sessions. A comprehensive written exam for OP&P is given in the spring following the Student OMM Clinic.