WVSOM maintains Wide Area Network connections on two diverse paths that provide 1 Gb each of bandwidth to the Internet. The WVSOM network is registered with ARIN and uses Border Gateway Protocol (BGP) to fully utilize both Internet Service Providers (ISP) concurrently. Our network staff is responsible for managing the overall traffic of the network, prioritizing the most critical applications servicing the campus and monitoring the proper usage related to Peer to Peer networks and prevention of copyright infringement downloads. These responsibilities adhere to those outlined in the Acceptable Use Policy of WVSOM information technology resources.
Access across the WVSOM network utilizes several VLANS that rely on Active Directory (AD) groups for privileges to the various IT resources. Security of the network is enhanced by these VLANs and the AD logins used by faculty, staff, and students. This security frame is used by the wired and wireless portions of the network. As users log in, determinations are made for their appropriate VLAN and the associated security privileges.
Wireless Access
The wireless infrastructure broadcasts the following connections:
WVSOM_Guest Used by guests and non-WVSOM owned devices. Guests will be prompted to self-register, employees and students will use their AD login
WVSOM_Student Used by students based on their AD login
WVSOM_Faculty Used by faculty and staff based on their AD login
Guest network
The WVSOM Guest network is intended to provide Internet access for:
students' and employees' personal devices
visitors to campus
Students and employees access the network using the same school-issued username and password that they use for e-mail.
Visitors can create an account for Guest access. They will be prompted for identifying information (name, e-mail address, phone number) and will be required to acknowledge an Acceptable Use Guest Network statement. All guests are expected to follow the WVSOM Acceptable Use Policy
To access the Guest wireless network, select WVSOM-Guest on your device's wireless network choices. You must open an Internet browser to complete initial access to the WVSOM-Guest network. Your browser will be redirected to the sign-on page
Logon to the guest wireless network.

If you are a student or employee, or have an existing guest account, enter the credentials and select Sign On (you will not see the screens in steps 2 and 3)
If you are a visitor and need to create an account, select "Create a new guest account".

Create a new guest account

Enter the required information
Select your phone provider for text messages from the SMS provider dropdown. No test messages will be sent automatically; you must request it on a later screen.
You must review to the bottom of the Acceptable Use statement for the "I agree to the terms and conditions" checkbox to be activated.
You must check the "I agree to the terms and conditions" checkbox for the "Register" button to be activated.
Click on the "Register" button to create your account.

Account Creation Notification

The screen with your logon information will be displayed.
An e-mail from AcctCreation@osteo.wvsom.edu containing your account creation information will be sent to the specified e-mail address
You may select "text account info" to receive a text containing your username and password on the phone specified on the account creation page.
You may select "Email account info" to have the account information email resent.
Click on "Sign On" to continue to the guest network.

Welcome Page

A successful connection will receive the welcome page
Click on "Continue" to be directed to the WVSOM web page and begin your browsing session
Phone and Fax
eduroam
eduroam is a secure world-wide federated Wi-Fi roaming service. As a member insitution, WVSOM faculty, staff and students are able to access Wi-Fi when traveling to other eduroam member locations. It also lets visitors from participating eduroam institutions login to WVSOM Wi-Fi without the need for guest Wi-Fi accounts.
Note that when using eduroam off campus, the authentication component provided by WVSOM is only used to obtain network access; each eduroam Institution supports and manages the underlying wireless equipment, networks, and their policies. If you have issues connecting while visiting a remote location, you should contact their local support for assistance. Maps of participating institutions can be found on eduroam.org here and incommon.org.
eduroam Configuration Assistant Tool
The eduroam Configuration Assistant Tool (CAT) is the simplest way to configure eduroam on all of your devices. eduroam CAT provides automatic wireless profile installers for most of the commonly used mobile device platforms including Windows, OS X, Apple iOS, Android, and most Linux distributions. The installers generated by CAT are digitally signed and ensure your device will only connect to genuine eduroam networks and authenticate with only the official WVSOM authentication servers.
To get started using eduroam CAT:
Browse to cat.eduroam.org from the device you wish to connect to eduroam, or scan the following QR code.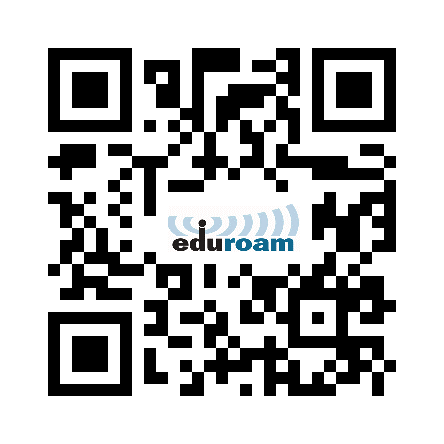 Select West Virginia School of Osteopathic Medicine as your institution.
The CAT website will automatically suggest the correct installer for your device. Click the button to download.
Run the downloaded installer, and follow the prompts to connect to eduroam.
There are a few things to be aware of when using eduroam:
If you are visiting and hosting an event, please have a backup (WVSOM guest account) in place in the event eduroam users are not able to authenticate or users do not have an eduroam capable account.
eduroam users visiting the campus are placed on a different network and will not have the same access to the WVSOM network as WVSOM users. Note that if you are a WVSOM user and visiting another institution, you may not have access to the same resources that you would on the WVSOM campus.
WVSOM faculty, staff, and students visiting participating locations please use your full email and password to login. Eg. jdoe@osteo.wvsom.edu
Campus visitors must use their full login credentials as provided by their institution to access the WVSOM eduroam network.
Further Support
If you need additional assistance in configuring your device for eduroam:
Contact the Information Technology Help Desk