WVSOM hosts "Flamingle" event to celebrate retirees, employees
The West Virginia School of Osteopathic Medicine (WVSOM) celebrated employee achievements by honoring retirees, recognizing employees for years of service and awarding faculty and staff for their work in fulfilling the medical school's mission.
This year, WVSOM's Office of Human Resources hosted its annual Employee Celebration in person, which gave employees an opportunity to mingle outside during the flamingo-themed celebration.
"This has been a tough year for all of us, with different challenges for each and every faculty and staff member. Despite the pandemic, quarantine and working remotely, the work of this institution has continued effectively and superbly," said WVSOM President James W. Nemitz, Ph.D. "I am grateful to each and every one of you for your dedication to our students and commitment to doing your job and doing it well during this challenging year. You have proven that we can provide a quality medical education to our students through an unprecedented global health crisis."
The event recognized five retirees: Heather Antolini, David Beatty, D.O., Craig Boisvert, D.O., FACOFP, Sally Hurst and Bridget Moore.
The President's Outstanding Employee Award, given annually to employees who are identified to the president through a vote by WVSOM faculty and staff as outstanding employees for the current academic year, recognizes exceptional and dedicated service to WVSOM. The goal of the award is to raise awareness in the campus community of the indispensable contributions made by the employee to the quality, diversity and overall mission of WVSOM. Ten employees were nominated. They were Crystal Boudreaux, Ph.D., Jonah Bowen, Tiffany Burns, Debra Hanson, Courtney Hereford, Alicia Luckton, Scott Maxwell, Karla Pauley, Randy Saunders and Leah Stone. This year's winners were Jonah Bowen and Randy Saunders.
Two faculty members, Marc Benson, Ph.D., and Elizabeth Ziner, D.O., received this year's President's Outstanding Faculty Award. The award is presented each year to members of the faculty in recognition of their excellence in teaching and commitment to osteopathic medical education.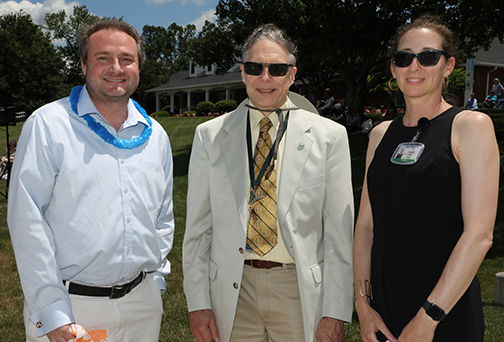 The Living Our Mission Award recognizes WVSOM staff who exemplify professional excellence, an understanding of and commitment to WVSOM, and a commitment to achieving the school's mission. This year's winners were Elizabeth Christie, Jeff Dowdy, Marlena Dunbar, Mary Essig, Holly Hardesty, Marietta Harvey, Courtney Hereford, Lisa Howard, Alicia Luckton and Lisa Spencer.
The Statewide Campus Pride Award recognizes an employee in one of the seven Statewide Campus regions who goes above and beyond in their service to WVSOM and to the students they serve. Employees receiving this award are people-oriented, respectful, innovative, dedicated and effective. Josalyn Mann, D.O., was this year's recipient.
The Rising Star Award honors a newly hired employee who has already demonstrated a strong commitment to the school, an understanding of how their position supports the school's mission and a commitment to working with others to engage the school's future. This year's winner was Chelsea Feger, D.O.
The celebration also recognized employees for reaching milestones in five-year increments of service at WVSOM. In addition to recognizing a number of employees who reached milestones of service, WVSOM recognized seven employees who achieved 20 or more years of service as of June 2021. Susan Griffith has worked at WVSOM for 20 years; Amber Cobb, John Reinholt, William Shires and Shannon Warren for 25 years; Deborah Montgomery for 30 years; and Pat Bauserman for 35 years.
WVSOM's vice president for academic affairs and dean, Craig Boisvert, D.O., was honored with professor emeritus distinction during the celebration. The honor of emeritus is granted at retirement in recognition of meritorious service. Other WVSOM faculty who received promotions and tenures were Marc Benson, Ph.D., promoted to associate professor; Crystal Boudreaux, Ph.D., awarded tenure and promoted to associate professor; Courtney Eleazer, Ph.D., awarded tenure and promoted to associate professor; Tuoen Liu, M.D., Ph.D., awarded tenure; Joyce Morris-Wiman, Ph.D., promoted to professor; Deborah Schmidt, D.O., promoted to professor; Jessica Smith-Kelly, D.O., awarded tenure and promoted to associate professor; David Webb, M.D., awarded tenure and promoted to associate professor; and Karen Wines, awarded tenure.
Leslie Bicksler, WVSOM's vice president of human resources, said school leaders are eager to return to a more normal schedule.
"We are excited to be getting back to a more normal existence in the coming year, including returning to classrooms and labs, and also re-engaging in activities that bring us together — students, faculty, staff and community," she said. "We are thankful to every employee for their contributions to WVSOM, for living our mission to serve others and to make a difference in our beautiful state of West Virginia, the nation and the world."
WVSOM currently employs 295 people.
Monday, June 21, 2021 - 14:29