WVSOM's educational camp reached high-schoolers from 7 states
Young people from as far away as Colorado joined the West Virginia School of Osteopathic Medicine (WVSOM) for this year's installment of Just Say KNOW, the school's free educational camp for high-school-aged students, which took place June 14-18.
Like last year's camp, the 2021 event took place virtually, with organizers and instructors livestreaming lectures, demonstrations and talks by special presenters from WVSOM's campus in Lewisburg, W.Va. The goal of the annual camp is to promote curiosity about science and medicine among ninth- through 12th-graders and recent high school graduates.
A total of 26 campers participated, 17 of whom were from West Virginia. Other states represented were Colorado, Louisiana, Maryland, Michigan, Ohio and Pennsylvania.
In addition to daily review sessions, updates and quizzes, Just Say KNOW consists of interactive activities that highlight hands-on learning. This year's camp was led by second-year WVSOM students Kaylee Kriner and James Easler, with assistance from undergraduate intern Lexie Mizia. Camp leaders worked under the supervision of biomedical sciences faculty members Crystal Boudreaux, Ph.D., and Karen Wines, M.S.
The theme of the 2021 camp was "Just Say KNOW to Combating a Pandemic: Careers in Medicine." First-time participant Ama Ackon-Annan, of Beckley, W.Va., said attending the camp strengthened her interest in pursuing an education that will allow her to become a family practitioner.
"I liked that they took time each day to teach us about some of the different jobs in health care," Ackon-Annan said. "I learned that there were careers I'd never even heard of before. And I enjoyed the activities we did, like practicing interviewing a patient, which is something that's really important in family medicine."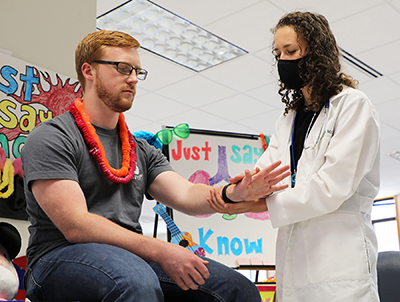 The camp's first day was devoted to neuroscience-themed activities. Following a bingo-style game designed to help campers get to know one another, participants learned about careers in behavioral science and listened to lectures detailing the cranial nerves and explaining how information passes between the brain's neurons. Campers made models of neuromuscular junctions from clay and watched leaders demonstrate how health care professionals test cranial nerves.
On the second day, attendees learned about the cardiovascular system. Campers studied the anatomy of the heart, investigated the functions of blood cells and created memes to help them remember what they learned. Leaders discussed cardiology-related careers and summarized common pathologies of the cardiovascular system. Additionally, employees from WVSOM's Rural Health Initiative talked with campers, and WVSOM President James W. Nemitz, Ph.D., spoke about the school and his own career in medical education, emphasizing the importance of entering a profession one finds fulfilling.
"The people who are the happiest are people who have meaningful work and who make contributions," Nemitz told campers. "It's important to look out there and ask, 'How do I want to contribute?' I admire you for taking the time to learn about these professions and about WVSOM, because it may lead you on a path that will change your life."
The camp's third day focused on the respiratory system, with leaders providing an outline of the system's anatomy and an overview of how breathing occurs. Leaders explained what pulmonologists, respiratory therapists and allergists do, and described problems that can occur in the lungs, such as pneumonia and chronic obstructive pulmonary disease (COPD). Biomedical sciences faculty member Dovenia Ponnoth, Ph.D., and student researchers spoke with campers about scholarly activities, and participants made a simple working model of the lungs using a syringe and a balloon.
The event's fourth day was about public health and the COVID-19 pandemic. Following a lecture on how the COVID-19 virus spreads and its effects on the brain, heart and lungs, leaders discussed public health careers. A registered nurse who worked with COVID-19 patients, WVSOM faculty member Lauren Miller, D.O., who was part of a COVID-19 task force, and a WVSOM student who is also an EMT worker spoke about their experiences during the pandemic. Campers learned how vaccines work and how herd immunity is achieved, and were introduced to the concept of ribonucleic acid (RNA) vaccines.
The camp culminated in a final-day showcase that gave attendees the chance to demonstrate their newfound knowledge to their families. Nearly 80 people viewed the showcase via livestream, Boudreaux said, adding that this year's camp owed its success in part to the experience gained from hosting the 2020 camp online.
"We felt we learned a lot from designing the virtual experience last year, and we were able to provide an even better experience due to upgraded technology," Boudreaux said. "And for the campers, having gone through a full school year in the virtual world, this was like riding a bike for them. The participants loved it, the staff enjoyed it and everyone had a good week."
Next year will be the camp's 10-year anniversary, Boudreaux said. To celebrate that milestone, the camp will return to its roots as "Just Say KNOW to Drugs," with a theme focused on pharmacology. Boudreaux said she expects the 2022 camp to take place as an in-person event, but is hopeful the virtual component will remain in order to reach students outside southern West Virginia.
Tuesday, June 29, 2021 - 12:05