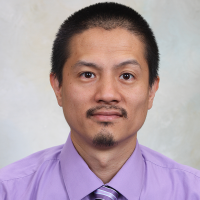 Shinichi Asano, Ph.D.
Assistant Professor
Biomedical Sciences
Office: A333
Lab: J101
Phone: (304) 647-6361
Education and Training
Ph.D. Biomedical Sciences
West Virginia University School of Medicine, Morgantown, West Virginia
Postdoctoral Training
West Virginia University, School of Medicine
Marshall University, School of Pharmacy
University Colorado Boulder, Integrative Physiology
Research Interests
I am interested in the physiological functions of muscle, which are altered in numerous pathological conditions. Particularly, smooth muscle function is unique and exciting. I have previous experience in the areas of biophysics/toxicology/physiology and I have utilized acute and chronic disease models such as sepsis, metabolic syndrome, aging and depression.
The goal of my lab is to provide students with a unique research experience in biomedical sciences relevant to their clinical applications.
Awards and Honors
2018: WV-INBRE Faculty Research Fellowship Awards (NIH, NIMS)
2012: National Research Service Award (T32 Post-doctoral training award: NIH NIA), University of Colorado
2012: Cardiovascular Pharmacology Division's Poster, American Society for Pharmacology and Experimental Therapeutics (ASPET)
2011: Graduate student travel awards, (ASPET)
2010: National Research Service Award (T32 Pre-doctoral training award: NIH NHLBI), West Virginia University
2010: tum Suden/Francis Hellebrandt Award, American Physiological Society (APS)
Publications
Brooks S, Brnayan KW, DeVallance E, Skinner R, Lemaster K, Sheets JW, Pitzer CR, Asano S, Bryner RW, Olfert IM, Frisbee JC, Chantler PD. Psychological stress-induced cerebrovascular dysfunction: the role of metabolic syndrome and exercise. Exp Physiol. 2018 May 1;103(5):761-776. doi: 10.1113/EP086892. Epub 2018 Mar 25.​
Haramizu S, Asano S, Butler DC, Hajira SA, Mohamed JS, Alway SE. Dietary resveratrol confers apoptotic resistance to oxidative stress in myoblasts. J Nutr Biochem. 2017 Dec;50:103-115. doi: 10.1016/j.jnutbio.2017.08.008. Epub 2017 Aug 24.
Asano S, O'Connell GC, Lemaster KC, DeVallance ER, Branyan KW, Simpkins JW, Frisbee JC, Barr TL, Chantler PD. Circulating leukocytes perpetuate stroke-induced aortic dysfunction. Exp Physiol. 2017 Jul 24.
E DeVallance, S Fournier, K Lemaster, C Moore, S Asano, D Bonner, D Donley, I.M. Olfert. P.D. Chantler. The Effects of Resistance Exercise Training on Arterial Stiffness in the Metabolic Syndrome. (2016) European Journal of Applied Physiology. 2016 May;116(5):899-910.
Asano S, Chantler PD, Barr TL. Gene expression profiling in stroke: relevance of blood-brain interaction. Curr Opin Pharmacol. 2016 Feb;26:80-6.
Asano S, Arvapalli R, Manne ND, Maheswari M, Ma B, Rice KM, Selvaraj V, Blough ER. Cerium Oxide nanoparticles (CeO2 NP) treatment ameliorates sepsis induced diaphragm dysfunction. International Journal of Nanomedicine. 2015 Oct 5;10:6215-6226
Asano S, Manne ND, Nandyala G, Ma B, Selvaraj V, Ravikumar A, Rice KM, Blough ER. Cecal inoculum peritonitis: an alternative model for sepsis vascular dysfunction study. Life Sci. 2015 Sep 25;141:108-118
Manne ND, Arvapalli R, Nepal N, Shokuhfar T, Kun He, Rice KM, Thulluri S, Selvaraj V, Asano S, Maheswari M and Eric Blough. Therapeutic Potential of Cerium Oxide Nanoparticles for the Treatment of Peritonitis Induced by Polymicrobial Insult in Sprague-Dawley Rats. Crit Care Med. 2015 Aug 31
Selvaraj V, Nepal N, Rogers S, Manne ND, Arvapalli R, Rice KM, Asano S, Fankhanel E, Ma JJ, Shokuhfar T, Maheshwari M, Blough ER. Inhibition of MAP kinase/NF-kB mediated signaling and attenuation of lipopolysaccharide induced severe sepsis by cerium oxide nanoparticles. Biomaterials. 2015 Aug;59:160-71
Sharifi-Sanjani M, Zhou X, Asano S, Tilley S, Ledent C, Teng B, Dick GM, Mustafa SJ. Interactions between A2A adenosine receptor, hydrogen peroxide, and K+-ATP channel in coronary reactive hyperemia. Am J Physiol Heart Circ Physiol. 2013 May 15;304(10):H1294-301.
Asano S, Bratz IN, Berwick ZC, Fancher IS, Tune JD, Dick GM. Penitrem A as a tool to understand the role of BK channels in vascular function. J Pharmacol Exp Ther. 2012 Aug;342(2):453-60.
Asano S, Tune JD, Dick GM. Bisphenol A activates Maxi-K channels in coronary vascular smooth muscle. Br J Pharmacol. 2010 May;160(1):160-70.
Borbouse L, Dick GM, Asano S, Bender SB, Dincer UD, Payne GA, Neeb ZP, Bratz IN, Sturek M, Tune JD. Impaired Function of Coronary BKCa Channels in Metabolic Syndrome. Am J Physiol Heart Circ Physiol. 2009 Nov;297(5):H1629-37.
Complete List of Published Work