WVSOM Copyright Policy
Every student, faculty member, and employee of WVSOM is expected to comply with U.S. Copyright Law and the WVSOM Copyright Guidelines established under the authority of WVSOM Institutional Policy E-40. The guidelines are a living document and will be added to on and/or revised on an as-needed basis.
The purpose of the WVSOM Copyright Guidelines is to summarize United States Copyright laws and provide guidance for the standardized use of copyrighted works by WVSOM faculty, students, staff, and administrators in a manner compliant with Title 17 U.S. Code, the United States Copyright Act, the Digital Millennium Copyright Act of 1998, and the TEACH Act.
The intended end result of compliance with federal laws and guidelines is to foster the promotion of scientific and medical discovery while encouraging WVSOM community members toward responsible use of copyrighted materials for research, teaching, and service activities.
Copyright Permission Search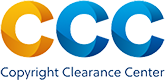 Copyright Clearance Center - Copyright Search
To check permission status, enter the title of the work or ISBN of the title you wish to use on the Copyright Clearance Center search page. In the search results, view the coverage available for the permission types selected. The titles returned marked with a green check may be used under the terms of the annual license agreement.
The Higher Education Opportunity Act (HEOA)
The Higher Education Opportunity Act (HEOA) of 2008 requires all colleges and universities to combat the unauthorized distribution of copyrighted materials on campus. Specifically targeted is the illegal downloading and sharing of copyrighted materials using the school's computer network. Read more about what policies and requirements WVSOM has in place.