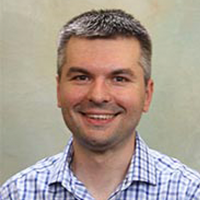 Predrag Krajacic, M.D.
Associate Professor of Neuroscience
Biomedical Sciences

Office: A325 Main Building
Lab: 105 Science Building
Phone: (304) 647-6305
Fax: (304) 793-6884

Education and Training
M.D., School of Medicine, University of Belgrade, Serbia
Postdoctoral training in Muscle Physiology, University of Pennsylvania, Philadelphia, PA
Research Interests
My Lab is studying muscular dystrophies using C. elegans as a model organism. In humans, physical exercise is known to enhance and/or maintain physical fitness and overall health and wellness. Methods of inducing exercise in higher model organisms (e.g. mouse treadmill) are well established. However, the efforts of inducing exercise in C. elegans were limited to liquid environment.
We are working on developing a platform that can be used to induce exercise in worms – the worm treadmill.
We are interested in studying the effects of induced (moderate and excessive) exercise on C. elegans muscles, lifespan, fertility etc. Using the worm treadmill we are currently investigating the C. elegans Duchenne Muscular Dystrophy (dys-1) mutant's response to excessive exercise and therapeutics (e.g. Prednisone, Fluoxetine etc.).
Our approach offers a cost effective and simpler way for initial screening of novel pharmacological compounds in order to find a cure for this currently incurable disease.
Current Lab Members
Predrag Krajacic, M.D. (PI)
Shea Hatcher, BS (Research Technician)
Christopher Carls, OMS-3
Carl Bou-Abboud, OMS-2
Ethan Stephens, OMS-2
Lab Alumni
James Akers, OMS-4
Benjamin Lovett
Bethany Hampton, BS (Research Technician)
James Phillips, OMS-3
Devin Rollender, OM​S-3
Selected Scholarly Activity
Bird SB, Krajacic P, Sawamoto K, Bunya N, Loro E, Khurana TS. Pharmacotherapy to protect the neuromuscular junction after acute organophosphorus pesticide poisoning. Annals of the New York Academy of Sciences. 2016 Jun;1374(1):86-93\
Zhao L, Hadziahmetovic M, Wang C, Xu X, Song Y, Jinnah HA, Wodzinska J, Iacovelli J, Wolkow N, Krajacic P, Weissberger AC, Connelly J, Spino M, Lee MK, Connor J, Giasson B, Leah Harris Z, Dunaief JL. Cp/Heph mutant mice have iron-induced neurodegeneration diminished by deferiprone. Journal of Neurochemistry. 2015 Dec;135(5):958-74
Loro E, Seifert EL, Moffat C, Romero F, Mishra MK, Sun Z, Krajacic P, Anokye-Danso F, Summer RS, Ahima RS, Khurana TS. IL-15Rα is a determinant of muscle fuel utilization, and its loss protects against obesity. Am J Physiol Regul Integr Comp Physiol. 2015 Oct 15;309(8):R835-44
Yelena Koren, Raphael Sznitman, Paulo Arratia, Christopher Carls, Predrag Krajacic, Andre EX Brown, Josué Sznitman. Model-independent phenotyping of C. elegans locomotion using Scale-Invariant Feature Transform. PlosOne, March 27, 2015; 10(3):e0122326
Krajacic P, Pistilli EE, Tanis JE, Khurana TS, Lamitina ST "FER-1/Dysferlin promotes cholinergic signaling at the neuromuscular junction in C. elegsns and mice", Biology Open, 2013 Oct 15;2(11):1245-52
Tanis J., Ma Z., Krajacic P., He L., Foskett J.K. and Lamitina T. CLHM-1 is novel Ca2+-permeable ion channel regulated by voltage and extracellular Ca2+ that contributes to excitable cell function in C. elegans. The Journal of Neuroscience, 2013 Jul 24;33(30):12275-86
Krajacic P., Shen X., Purohit P.K., Arratia P. and Lamitina T. Highlighted methods publication: BMP (Biomechanical profiling of C. elegans motility) – a new tool for quantifying C. elegans locomotion. The Worm Breeder's Gazette, Vol. 19 Number 2, 2012
Shen X.N., Sznitman J., Krajacic P. Lamitina T. and Arratia P.E. Undulatory locomotion of C.elegans on wet surfaces. Biophysical Journal, Epub 2012 Jun 19.
Krajacic P, Shen X, Purohit P, Arratia P and LamitinaT. Biomechanical Profiling of Caenorhabditis elegans Motility. Genetics, 2012 May 2
Sznitman J, Purohit PK, Krajacic P, Lamitina T, Arratia PE. Material properties of Caenorhabditis elegans swimming at low Reynolds number. Biophysical Journal, 2010 Feb 17;98(4):617-26
Krajacic P, Hermanowski J, Lozynska O., Khurana TS, Lamitina T. C. elegans dysferlin homolog fer-1 is expressed in muscle, and fer-1 mutations initiate altered gene expression of muscle enriched genes. Physiological genomics, 2009 Dec 30;40(1):8-14.
Full list of publications at researchgate.net)
Recent Conference Abstracts
Christopher Carls OMS-III, James Phillips OMS-II and Predrag Krajacic M.D. Enforced Exercise Induces Rapid Exhaustion in C. elegans Dystrophin Mutants. Experimental Biology 2016, San Diego, CA 2016
James Phillips OMS-II, Devin Rolender OMS-II, Christopher Carls OMS-III and Predrag Krajacic M.D. Prednisone and Fluoxetine Prevent Exercise Induced Rapid Exhaustion in C. elegans Duchenne Muscular Dystrophy Mutants. AOA - OMED 15, Orlando, FL 2015
Devin Rolender OMS-II, James Phillips PMS-II, Christopher Carls OMS-III and Predrag Krajacic M.D. Prednisone improves C. elegans Duchenne Muscular Dystrophy Mutant Biomechanics. AOA - OMED 15, Orlando, FL 2015
Andrew R. Thompson, Jandy B. Hanna, Predrag Krajacic, Rebecca Scopa Kelso, Lourdes Bernardino. Unusual anatomic variant of the cauda equina and spinal nerve roots. Experimental Biology, Boston, MA 2015
Christopher Carls OMSII, James Akers OMSII, Bethany Hampton BS and Predrag Krajacic MD. Exercise Induces Rapid Exhaustion in C. elegans Duchenne Muscular Dystrophy Mutants. AOA - OMED 14, Seattle, WA 2014
James Akers OMSII, Christopher Carls OMSII, Bethany Hampton BS and Predrag Krajacic MD. Effects of Enforced Exercise on C. elegans Longevity. AOA - OMED 14, Seattle, WA 2014
Emanuele Loro, Erin Seifert, Cynthia Moffat, Manoj K. Mishra, Freddy Romero, Predrag Krajacic, Frederick Anokye-Danso, Rexford S. Ahima1and Tejvir S. Khurana. Interleukin 15 receptor alpha (IL15Ra)-deficient mice are resistant to obesity. New Directions in Biology and Disease of Skeletal Muscle, Chicago, IL 2014
Manoj K. Mishra, Emanuele Loro, Catherine Moorwood, Predrag Krajacic, Steve D. Wilton, Tejvir S. Khurana. Utrophin (Utrn) upregulation via AAV let7 miRNA sponge in vivo. New Directions in Biology and Disease of Skeletal Muscle, Chicago, IL 2014
Steven Bird, Keigo Sawamoto, Romolo Gaspari, Tejvir S Khurana, Predrag Krajacic. Nicotinic Receptor Antagonist Protect the Neuromuscular Junction after Acute Parathion Poisoning. North American Congress of Clinical Toxicology, 2013