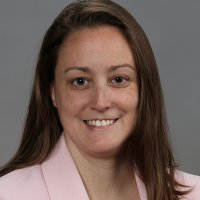 Jandy Hanna, Ph.D., M.S.B.
Associate Dean, Research and Sponsored Programs
Lab: Clinical & Translational Science Center
Office: A310A Main building
Office: (304) 647-6366
Fax: (304) 793-6884
Education and Training
B.S./B.A. Anthropology/Biology, Kent State University, Kent, OH
Ph.D. Biological Anthropology and Anatomy, Duke University, Durham, NC
M.S.B. Research Ethics, Clarkson University, Capital Campus, Schenectady, NY/Icahn School of Medicine, New York, NY
Research Interests
My research investigates the biomechanics of movement in primates, particularly vertical movement. Primates are an arboreal radiation and must move a 3-dimensional environment.
Movement in the vertical dimension is thought to have played a role in the evolution of upright posture. Thus, comparative work on how non-human primates with varied anatomy move in this dimension provides insight into the effects of varied human anatomy on tasks such as climbing, stair walking, and activities that involve large extension.
Data collection for this research is conducted at other institutions and analyzed at WVSOM.
My research also examines various types of human movement and students are mentored in how to develop their own research questions and projects regarding human movement.
Selected Scholarly Activity