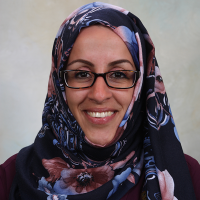 Imaan Benmerzouga, Ph.D.
Assistant Professor of Physiology
Department of Biomedical Sciences
Office: A317​
Lab: J208​
Phone: (304)-647-6214
Fax: (304)-793-6884
Education and Training
BS, Biology and Honors Chemistry, Cleveland State University
Ph.D., Regulatory Biology with Cellular and Molecular Medicine Specialization (CMMS), Cleveland State University
Postdoctoral Training, Pharmacology and Toxicology, Biochemistry and Molecular Biology, Indiana University School of Medicine
Research Interest
I have always been interested in understanding microbial latency and the molecular mechanisms utilized by microbes to escape or use the host-immune responses. Currently, my interest has expanded to further understand host-parasite interactions during latency or active infection that can lead to the development of other chronic diseases. Specifically, I am interested in Toxoplasma gondii. Toxoplasma is an obligate intracellular parasite that infects warm-blooded vertebrates. It is a highly prevalent parasite due to its multiple routes of transmission. Toxoplasma infection is not a life-threatening infection in immunocompetent people, as it rapidly coverts to the latent form. However fatal Toxoplasmosis can ensue in immunocompromised individuals as a result of reactivation of the latent form. This latent form is found in the brain, heart and other tissues and persists throughout the host's lifetime.
This phenomenon makes Toxoplasma a unique microbe, as most microbes that cross into the CNS can cause lethal disease regardless of the host's immunity. Therefore, Toxoplasma is in a position that allows for altering neurotransmission and/or signaling in the brain and potentially predisposing the individual to developing neurological/brain disorders. Indeed, many studies have associated Toxoplasma infection with altered behavior in humans and other neurological disorders including schizophrenia and epilepsy. Our goal is to develop a greater understanding of the interaction between the host's CNS and the "harmless" infection. Currently, my lab utilizes both cell culture and the animal model of Toxoplasmosis to ask the following questions:
What is the influence of acute or chronic Toxoplasma infection on the normal physiology of CNS?

Does acute or chronic infection with Toxoplasma result in CNS physiological changes in the presence of substances of abuse that might lead to further abuse?
The lab's central hypothesis is that Toxoplasma infection leads to changes in neurotransmission, receptor expression, receptor desensitization and/or cellular signaling pathways that are important in CNS homeostasis.
Awards and Honors
Awards
2008: Graduated Valedictorian, Cleveland State University
2008: Graduate Assistance in Areas of National Need Fellowship (GAANN), Cleveland State University
2011: 1st Place Oral Presentation Award, 5th Annual Graduate Students Interdisciplinary Research Conference, Cleveland State University
2012: Doctoral Dissertation Expense Research Award, Cleveland State University
2014: 2nd Place Poster Presentation, Midwest Neglected Infectious Diseases Meeting
2014: Annual Biomedical Research Conference for Minority Students 2014 Judges' Travel Award
2015: National Postdoctoral Association (NPA) travel Award
2015: National Research Service Award (NRSA): Postdoctoral Immunology and Infectious Diseases Fellowship, Indiana University School of Medicine
2016: Nominee; 2016 Donald Bowman Award for excellence in research in Biochemistry and Molecular Biology, Indiana University School of Medicine
2017: Faculty Research Support Level 2 Award, Marshall University School of Pharmacy
2018: Outstanding Team Taught Course Award P1 year, Marshall University School of Pharmacy
2018: Summer Student Research Award, Marshall University School of Pharmacy
2018: American Association for Colleges of Pharmacy (AACP) Walmart Scholars Award- Faculty Mentor
Publications
Liu J, He P, Benmerzouga I, Sullivan Jr WJ., Morrissette N, Murray J.M. Hu K (2015). An ensemble of specifically targeted proteins stabilizes cortical microtubules in the human parasite Toxoplasma gondii. Mol Biol Cell. 2015 Dec 17. pii: mbc.E15-11-0754. Cover of Feb 1st, 2016 issue of MBoC.

Benmerzouga I, Checkley L, Ferdig M, Arrizabalaga G, Wek RC, Sullivan Jr WJ (2015). Guanabenz repurposed as an anti-parasitic with activity against acute and latent toxoplasmosis. Antimicrob Agents Chemother pii: AAC.01683-15.

Jehi S, Li X; Sandhu R, Ye F, Benmerzouga I; Zhang M, Li B. (2014) Suppression of Subtelomeric VSG switching by Trypanosoma brucei TRF requires its TTAGGG Repeat-binding Activity. Nucl. Acids Res. 42(20):12899-911.

Benmerzouga I, Concepción-Acevedo J, Hee-Sook K, Vandoros A.V, Cross G.A.M, Klingbeil M.M, Li B. (2013) Trypanosoma brucei Orc1 is Essential for Nuclear DNA Replication and Affects Both VSG Silencing and Switching. Mol Microbiol. 87(1):196-210.