Due June 30, 2022: Reading Project Essay
Class of 2026 Summer Reading Assignment
Due July 23: Medical Terminology Assignment
Prior to the start of classes, students are asked to review the construction of medical terms including the most common roots, suffixes and prefixes. Having a solid background in medical and anatomical terminology will help prevent you from getting lost in lectures and enable you to get more out of your early clinical encounters.
Students are expected to complete the modules listed below which can be found at the web page for the National Cancer Institute's Surveillance, Epidemiology and End Results (SEER) Program. This will not count toward your grade but will be assessed during orientation as part of the "practice" exam introducing you to our test-taking software.
Due July 23: CPR Requirements
You will be required to have a current CPR card when you arrive on campus. We teach American Heart Association Professional BLS at the end of your 2nd year. That would be the preferred class for you to look for. We will accept other classes as long as they have "hands on" training (not just internet) and they should include training for adults, children and infants with AED training. Please contact your local American Heart Association for a schedule of classes.
Additional Requirements
You are required to submit additional documentation to WVSOM prior to matriculation. This documentation includes the following: a copy of your transcripts; the Student Health Immunization Form; and the Health and Technical Standards Form. For further details, including the dates that these items are due and how the forms can be uploaded to Castle Branch, please visit Admitted Students: Next Steps
Optional Assignments
Pelley Pre-Matriculation Program
You are invited to participate in a free on-line pre-matriculation program that will help you develop the skills needed for success. The Expert Skills Program (ESP) is designed to train you to perform well beyond minimum adequate standards. The pre-matriculation program itself consists of three self-study modules done at your own pace. This is completely voluntary and is not part of the graded curriculum nor will it be entered into your record. While it is not mandatory, we highly recommend you take a look at it and be open to assessing your current academic skills to see if this training program may be beneficial for you. We will also ask you to participate in a very brief program assessment designed to help us improve the program in the future.
To register for this program, simply contact Brenda Lemine (blemine@osteo.wvsom.edu or 304-647-6324), and we will send you the link to the ESP.
The ESP was created by John Pelley, PhD at Texas Tech University School of Medicine, and WVSOM has obtained permission for our students to participate in this free on-line program.
Reading Pre-Matriculation Program
The ASPIRE department has developed a reading pre-matriculation program to help incoming medical students adapt their reading style to one that helps them read complicated medical texts more effectively and efficiently. We will introduce you to a new reading strategy and apply it to several relevant medical texts that coincide with what you will learn in the first few months of medical school.
If you describe yourself as a "slow reader" or as someone who just struggles with reading in general, then this program may help. This program can be accessed online through eMedley which you will have access to, following your second deposit.
Instructions for Accessing the ASPIRE Reading Material in eMedley
Access to the system will be provided on June 28.
You must use Google Chrome.
Login at https://he.emedley.com/wvsom (this url must be exact---no additional bracket on the end or anything) using your WVSOM email and password.
If you are using Google Chrome and have issues, please try the following:
Try completely closing Google Chrome and re-opening it or restarting your machine.
If the login page you are attempting to use does not have the WVSOM logo on it, please check to make sure the link above is being entered in the address bar of the browser exactly as shown or try https://he.emedley.com/univ/wvsom/common/adfs/login.php.
Ensure that you are using the correct WVSOM email address and password.
Make sure that the link did open in Google Chrome and not another browser (e.g. Firefox, Internet Explorer).
Educate
Finding and Viewing the ASPIRE Reading Material
Click the Applications icon on the left (three stacked blocks) and select educate 2
Click on filter icon (looks like a funnel) at the top of the feed.
Select "ASPIRE Reading" from the dropdown next to "Section".
Each step will be outlined for you as shown below.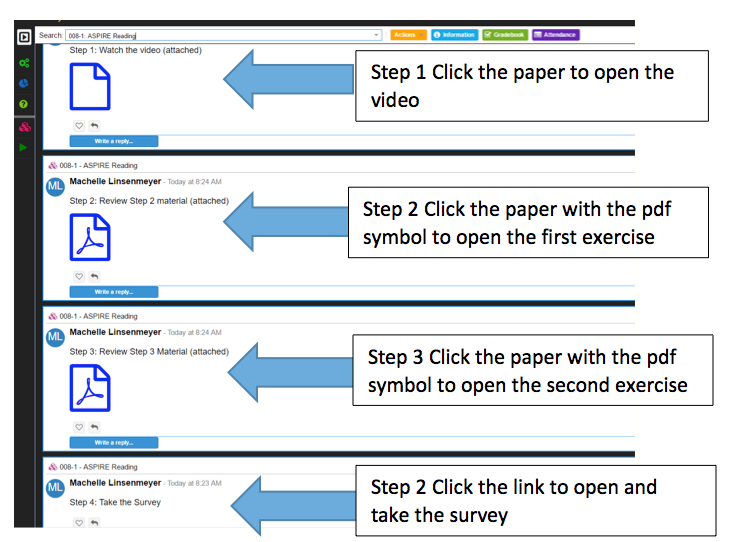 Help/Support
The Office of Assessment and Educational Development maintains and provides support for all components of eMedley. If you need help, please contact Machelle Linsenmeyer via email at alinsenmeyer@osteo.wvsom.edu or via phone at 304-793-6871.
Full training and additional information regarding eMedley will be provided during orientation.
Technology Support 
The Information Technology Department provides technology support for account and password management, device and email assistance. The Help Desk can be reached at 304-647-6246 or via email at Helpdeskteam@osteo.wvsom.edu.